Switzerland in October : The Enchanting Autumnal Beauty and Top Attractions
Switzerland in October offers pleasant weather with beautiful autumn foliage. Experience the charm of this breathtaking country.
Switzerland in October is the perfect time to explore the stunning landscapes, go hiking in the mountains, visit picturesque villages, and indulge in delicious swiss cuisine and chocolates. Enjoy outdoor activities like biking, boating, and exploring the famous swiss cities of Zurich, Geneva, and Lucerne.
October also marks the start of the ski season in some regions, giving you the opportunity to hit the slopes and enjoy winter sports. Whether you're a nature lover, an adventure seeker, or a food enthusiast, Switzerland has something to offer everyone in October.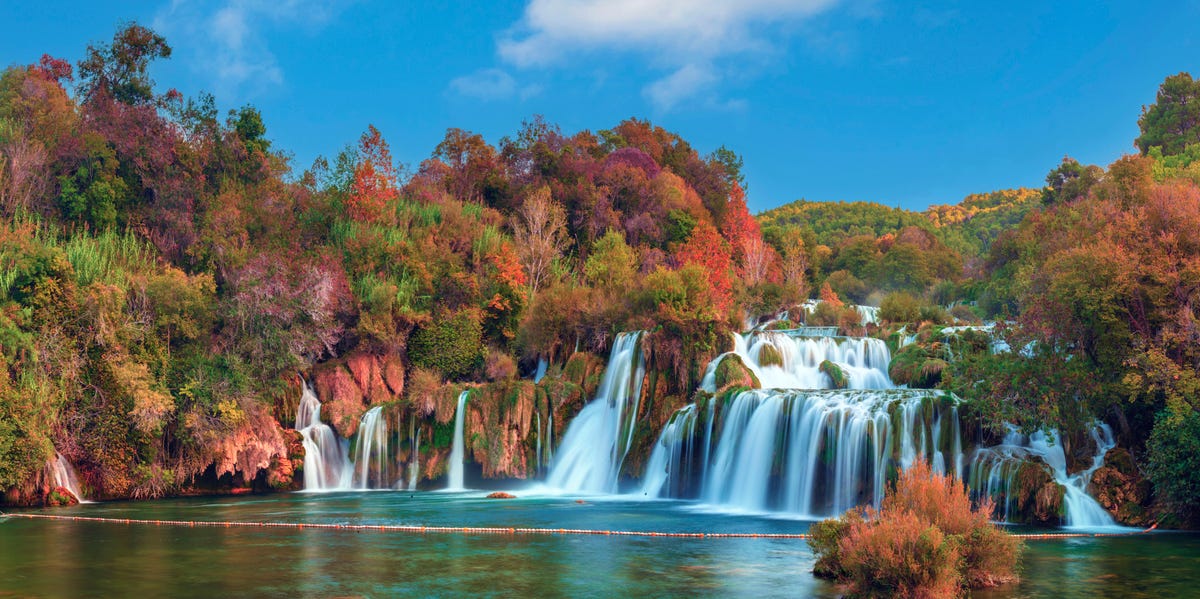 Credit: www.goodhousekeeping.com
Weather In Switzerland In October
October is a wonderful time to visit Switzerland, offering a mix of stunning fall foliage, pleasant temperatures, and lesser crowds compared to the peak summer season. In this month, Switzerland transforms into a picturesque wonderland, with vibrant hues of red, orange, and gold stretching across the landscapes.
If you're planning to travel to Switzerland in October, here's what you need to know about the weather:
Expect mild weather and comfortable temperatures throughout Switzerland in October. The average temperatures range between 10°c (50°f) and 15°c (59°f), making it ideal for enjoying outdoor activities and exploring the country.
While the days are still relatively warm, especially during the early weeks of October, the nights can become cooler. It is advisable to pack a light jacket or sweater to stay comfortable during the evenings.
Rainfall is moderate during this time, so be prepared with a waterproof jacket or umbrella. It is always a good idea to check the weather forecast before planning your daily activities.
The weather conditions vary across different regions of Switzerland. In the mountainous areas, such as the swiss alps, higher altitudes may experience colder temperatures and the possibility of snowfall. Make sure to bring appropriate clothing and footwear if you plan on visiting these areas.
It's worth noting that October is also considered the start of the shoulder season, meaning some attractions and accommodations may have reduced opening hours or limited availability. It's advisable to check ahead and make any necessary reservations in advance.
Despite the potential for slightly unpredictable weather, October provides a unique opportunity to witness the striking autumn colors against the backdrop of Switzerland's breathtaking landscapes. Whether you're exploring charming villages, hiking scenic trails, or admiring the stunning lakes, October offers a picturesque experience.
So, if you're looking to embrace the beauty of autumn in Switzerland, October is the perfect time to immerse yourself in its natural splendor. Just be prepared with the right clothing and plan your activities accordingly to make the most of your visit.
Why Is October A Great Time To Visit?
Switzerland in October is a unique and enchanting experience that should not be missed. As the autumn season settles in, this picturesque country transforms into a breathtaking tapestry of vibrant colors and majestic landscapes. But what makes October a great time to visit Switzerland?
Let's explore the enticing reasons:
Mild Weather And Pleasant Temperatures:
The crisp autumn air blankets Switzerland in October, creating a pleasant and comfortable climate for outdoor activities.
Temperatures during this time of year range from around 10°c to 20°c, making it ideal for hiking, biking, and exploring the stunning countryside.
The Magical Colors Of Autumn:
October brings a brilliant display of colors as the forests and mountains are adorned with golden hues of red, orange, and yellow.
The scenic landscapes, coupled with the shimmering lakes and snow-capped peaks, offer a truly magical and breathtaking sight.
Festivals And Celebrations:
Switzerland embraces the arrival of autumn with various festivals and events. One such highlight is the fête de l'escalade in Geneva, celebrating the city's history and traditions with parades and lively street festivals.
October also marks the start of the traditional alpabzug, where farmers bring their cattle down from the high mountain pastures to celebrate the end of summer.
Fewer Crowds And Lower Prices:
Compared to the peak tourist season, October sees fewer crowds, allowing visitors to explore Switzerland's attractions in a more relaxed and unhurried manner.
Additionally, accommodation and airfare prices tend to be lower during this time, making it an ideal opportunity for budget-conscious travelers.
Adventurous Outdoor Activities:
October is the perfect time to indulge in various outdoor adventures in Switzerland. Hike through breathtaking trails, explore hidden valleys, or challenge yourself with a thrilling outdoor sport like paragliding or canyoning.
The pristine lakes also offer opportunities for sailing, paddle boarding, and other water activities before the winter freeze sets in.
Culinary Delights:
Switzerland is renowned for its culinary delights, and October offers a chance to savor seasonal treats. Indulge in hearty meals featuring local ingredients, including delicious seasonal cheeses, freshly harvested mushrooms, and sweet roasted chestnuts.
Cultural And Historical Excursions:
From medieval towns and castles to world-class museums, Switzerland is rich in cultural and historical attractions. October provides a serene and immersive experience to explore the country's heritage without the crowds.
Take a stroll through the old town of Zurich, visit the château de chillon on lake Geneva, or journey through history at the swiss museum of transport in Lucerne.
Excellent Train Connections:
Switzerland's efficient and reliable train network allows easy access to its many treasures. Traveling in October offers the added advantage of hassle-free journeys with fewer tourists, making train rides even more enjoyable and comfortable.
Wine Harvest Season:
October is also the wine harvest season in Switzerland. The vineyards come alive with activity as grapes are carefully picked and transformed into exquisite wines.
Consider visiting the picturesque wine regions of Lavaux and Valais and indulge in vineyard tours and wine tastings to experience the local wine culture.
Captivating Scenic Train Rides:
Switzerland's scenic train rides are renowned worldwide, and October provides an opportunity to embark on these breathtaking journeys in their full autumn splendor.
From the iconic glacier express to the bernina express, these panoramic train rides offer unrivaled views of Switzerland's mesmerizing landscapes.
Immerse yourself in the breathtaking beauty, cultural festivities, and outdoor adventures that Switzerland has to offer in October. This extraordinary experience will create memories that will last a lifetime. So pack your bags, embrace the autumn charm, and embark on an unforgettable journey to treasure.
Best Beaches To Visit In Switzerland In October
Switzerland in October offers a picturesque landscape dotted with charming towns and breathtaking scenery. While it may not be the first place that comes to mind for beach enthusiasts, there are a few hidden gems that can satisfy your longing for sandy shores and tranquil waters.
Let's explore the best beaches in Switzerland to visit in October.
1. Lake Lugano:
Lake Lugano boasts stunning turquoise waters and picturesque surroundings.
The mild October weather allows for enjoyable beach activities such as sunbathing, picnicking, and even swimming.
Take a leisurely stroll along the lake promenade and soak in the serene ambiance.
2. Lake Zurich:
Lake Zurich, with its crystal clear waters, offers a splendid setting for a beach getaway.
The lakeside parks and public swimming areas provide ample space for relaxation and recreation.
Enjoy a boat ride or try your hand at various water sports, including stand-up paddle boarding and kayaking.
3. Lake Geneva:
Lake Geneva is the largest lake in Switzerland and offers a diverse range of beaches to explore.
The lakeside towns of Geneva, Montreux, and Lausanne are known for their scenic views and vibrant atmosphere.
Bask in the October sun, take refreshing dips in the lake, or simply unwind on the sandy shores.
4. Lake Constance:
Lake Constance, located on the border of Switzerland, offers stunning beaches and a tranquil ambiance.
Enjoy a peaceful stroll along the lakeside promenade, surrounded by picturesque landscapes.
Take a refreshing dip in the crystal clear waters or relax on the pebbled beaches while admiring the panoramic views.
5. Walensee:
Nestled amidst the swiss alps, Walensee offers a unique beach experience with its breathtaking mountain backdrop.
The clear waters of the lake are perfect for swimming and other water activities.
Embark on a hiking trail after your beach day and enjoy the stunning views of the surrounding mountains.
Whether you're seeking a relaxing day on the beach or an active water adventure, Switzerland's lakes offer a delightful escape in October. With their scenic beauty and diverse recreational opportunities, these hidden beaches are perfect for a serene and memorable beach experience.
So pack your swimsuit, towel, and sunscreen, and head to Switzerland's pristine shores this October!
Things To Do In Switzerland In October
Switzerland in October is a mesmerizing destination that offers a mix of stunning landscapes, beautiful fall foliage, and exciting activities. With the crisp autumn air and fewer crowds, October is the perfect time to explore this enchanting country. Whether you're a nature lover or a culture enthusiast, Switzerland has something for everyone.
So, if you're planning a trip to Switzerland in October, here are some of the things you can do:
Experience The Magic Of The Swiss Alps
Immerse yourself in the breathtaking landscapes of the swiss alps.
Take a scenic train ride to witness the stunning snow-capped peaks, glistening lakes, and charming villages.
Embark on a hiking adventure and explore the picturesque trails that offer panoramic views of the surrounding mountains.
Witness The Fall Foliage
October is the time when the swiss landscapes transform into a tapestry of vibrant colors.
Take a leisurely stroll through the forests of Switzerland and witness the stunning autumn foliage.
Capture the beauty of nature's palette with your camera and create memories that will last a lifetime.
Explore The Charming Swiss Towns
Visit the charming towns of Lucerne, Zurich, and Geneva and immerse yourself in their rich history and culture.
Wander through the cobblestone streets, admire the medieval architecture, and visit the local museums and art galleries.
Indulge in the local cuisine, savor the swiss chocolates and cheeses, and experience the warm hospitality of the swiss people.
Delve Into Swiss History And Culture
Take a trip to the historical castles and museums scattered across the country.
Explore the Chillon castle on lake Geneva, the medieval castle of gruyères, or the famous swiss museum of transport in Lucerne.
Learn about Switzerland's fascinating history, traditions, and customs, and gain a deeper understanding of this captivating country.
Take A Scenic Boat Cruise
Hop on a boat cruise on one of Switzerland's stunning lakes and soak in the natural beauty.
Enjoy the scenic views of the surrounding mountains, charming villages, and vineyards.
Relax on the deck, feel the cool breeze on your face, and admire the crystal-clear waters as you glide across the lake.
Enjoy Outdoor Activities
October in Switzerland offers a plethora of outdoor activities for adventure enthusiasts.
Go mountain biking, paragliding, or rock climbing for an adrenaline rush.
Go on a thrilling cable car ride to the mountain peaks for a bird's-eye view of the magnificent landscape.
Visit The Swiss National Park
Explore the swiss national park and discover its diverse wildlife and ecological treasures.
Embark on a hike through the park's well-maintained trails and spot various species of animals and birds.
Immerse yourself in the tranquility of nature and experience the untouched beauty of the swiss wilderness.
Attend Traditional Festivals And Events
October is the month of celebrations in Switzerland, with various traditional festivals taking place.
Join the locals in their colorful costumes and be a part of traditions such as cow parades, wine festivals, or alpine festivals.
Indulge in the lively atmosphere, taste traditional swiss dishes, and dance to folk music.
Relax In Thermal Baths And Spas
Pamper yourself in Switzerland's world-class thermal baths and wellness centers.
Unwind in the warm mineral-rich waters and let the stress melt away.
Enjoy a rejuvenating spa treatment and embrace the tranquility of these soothing retreats.
Indulge In Chocolate And Cheese Tastings
Switzerland is renowned for its delicious chocolates and cheeses.
Embark on a culinary adventure and visit chocolate and cheese factories to taste these iconic swiss treats.
Learn about the art of chocolate and cheese making and savor the flavors that make Switzerland famous.
Switzerland in October offers a plethora of activities and experiences for every type of traveler. Whether you choose to explore the stunning swiss alps, witness the fall foliage, immerse yourself in the swiss towns, indulge in outdoor activities, or simply relax in the thermal baths, Switzerland has something to offer everyone.
October is the perfect time to visit this captivating country, so plan your trip and create unforgettable memories in Switzerland.
Festivals And Events In Switzerland In October
Switzerland in October is a month filled with vibrant festivals and exciting events that showcase the country's cultural richness and natural beauty. From colorful parades to lively music festivals, October offers something for everyone. Let's delve into the festivals and events in Switzerland in October.
Zurich Film Festival:
This internationally renowned film festival attracts movie lovers from around the world.
Engross yourself in a diverse range of films, including captivating documentaries, compelling dramas, and thought-provoking shorts.
Get the chance to meet talented directors and actors, and experience the glitz and glamour of red carpet premieres.
Jucker Farm Pumpkin Festival:
Immerse yourself in the enchanting world of autumn at the jucker farm pumpkin festival.
Marvel at the creatively carved pumpkins and take part in exciting activities such as pumpkin boat racing and pumpkin carving workshops.
Indulge in delicious seasonal treats like pumpkin pie and pumpkin soup while enjoying the picturesque countryside views.
Basel Autumn Fair:
Get ready to be dazzled by lights, colors, and thrilling rides at the basel autumn fair, one of Switzerland's largest and oldest fairs.
Experience the exhilaration of being on the ferris wheel, taste mouthwatering swiss specialties, and try your luck at various game stalls.
Immerse yourself in the cheerful atmosphere created by the lively music and bustling crowds.
Zurich Oktoberfest:
Celebrate the Bavarian beer culture in the heart of Zurich at the Zurich Oktoberfest.
Raise a glass of frothy beer while savoring traditional German cuisine and enjoying live music performances.
Join in the merriment with fellow revelers, partake in the hilarious Oktoberfest games, and have an unforgettable time.
Chocolate Festival In Zurich:
Indulge your sweet tooth at the chocolate festival in Zurich, a haven for chocolate lovers.
Sample a wide variety of mouthwatering chocolates from local and international chocolatiers.
Discover the art of chocolate making through workshops and demonstrations while delighting in the irresistible aroma of cocoa.
Geneva International Film Festival:
Immerse yourself in the world of cinema at the Geneva international film festival, known for its diverse selection of films from around the globe.
From captivating feature films to thought-provoking documentaries, there's something for every film enthusiast.
Engage in stimulating discussions with filmmakers and fellow movie lovers, gaining a deeper appreciation for the art of storytelling.
Alpabzug (Cattle Descent):
Witness a traditional swiss spectacle as cows adorned with colorful flowers descend from the alpine pastures to their winter shelters.
Experience the charm of this time-honored tradition in various swiss towns and villages.
Immerse yourself in the festive atmosphere, accompanied by live music, delicious food, and the chance to interact with friendly locals.
Zurich Bier Festival:
Celebrate the rich beer tradition of Switzerland and beyond at the Zurich bier festival.
Sample a wide range of beers, from classic lagers to unique craft brews, while enjoying live music and entertainment.
Expand your knowledge of beer through fascinating workshops and tastings, making this festival a must-visit for beer enthusiasts.
Montreux Jazz Festival:
Delight in the harmonious tunes and melodic rhythms of the Montreux jazz festival, one of Europe's most prestigious music events.
Experience electrifying performances by renowned jazz artists as well as other genres like blues, soul, and rock.
Immerse yourself in the magical ambience of lake Geneva while relishing the soul-stirring melodies.
International Balloon Festival In Château-D'Oex:
Be awestruck by the colorful spectacle of hot air balloons floating gracefully over the swiss alps at the international balloon festival in château-d'oex.
Enjoy the mesmerizing sight of hundreds of balloons soaring through the sky, painting it with vibrant hues.
Immerse yourself in the festival's festive atmosphere, featuring live music, delicious food, and a thrilling night glow event.
October in Switzerland is a time of celebration, cultural diversity, and natural beauty. Plan your visit accordingly to witness these enchanting festivals and events that will leave you with unforgettable memories.
Check Switzerland's every month travel guide written by Worldtript Expert
Tips For Visiting Switzerland In October
Switzerland in October is a magical time to visit this picturesque country. As the autumn colors paint the landscape, there's a distinct charm in the air. The weather is mild, the crowds are smaller compared to the summer months, and there are plenty of exciting activities to enjoy.
If you're planning to explore Switzerland in October, here are some valuable tips to make the most of your trip:
Best Places To Visit In October:
Geneva: Discover the rich history and vibrant culture of Switzerland's second-largest city. Explore the iconic jet d'eau, wander through the old town, and visit renowned museums.
Lucerne: Nestled amidst mountains and a beautiful lake, Lucerne is a postcard-perfect destination. Take a scenic boat ride, explore the charming chapel bridge, and enjoy the autumn foliage.
Zermatt: This car-free village offers breathtaking mountain views, especially the majestic Matterhorn. Hike, bike, or take a cable car for an unforgettable experience.
Interlaken: Known as the adventure capital of Switzerland, Interlaken offers adrenaline-pumping activities like paragliding, skydiving, and canyoning. Enjoy the scenic beauty of the surrounding mountains.
Weather And What To Pack:
October brings cooler temperatures, ranging from 8°c to 17°c (46°f to 63°f) in most parts of Switzerland. It's essential to dress in layers and pack a mix of warm clothing, including a lightweight jacket, sweaters, and a waterproof outer layer.
Comfortable walking shoes are a must, especially if you plan on exploring the cities on foot or embarking on hikes in the countryside.
Don't forget to pack a hat, gloves, and a scarf to prepare for any unexpected chill in the air.
Events And Festivals:
October is a month of vibrant celebrations in Switzerland. The annual fête de l'escalade takes place in Geneva, commemorating a historical event with parades, music, and traditional costumes.
If you're a fan of jazz music, the Montreux jazz festival is not to be missed. It features renowned musicians from around the world performing in various venues.
Check out local tourism websites and event calendars to find out about other festivals, concerts, and cultural events happening during your visit.
Outdoor Activities:
October is an ideal time for hiking and taking in Switzerland's stunning natural beauty. The trails are less crowded, and the autumn colors add a touch of magic to the scenery.
Consider taking a scenic train journey, such as the glacier express or bernina express, to marvel at Switzerland's breathtaking landscapes from the comfort of a train.
If you're a water enthusiast, try canoeing, kayaking, or paddle boarding on the pristine swiss lakes.
Covid-19 Precautions:
Before traveling to Switzerland in October, make sure to check the latest travel guidelines and restrictions due to the ongoing covid-19 pandemic.
Be prepared to show proof of vaccination or a negative test result when entering certain venues or participating in specific activities.
Follow local health guidelines, maintain social distancing, and wear a mask in crowded areas or when required.
Switzerland in October offers a unique blend of natural beauty, cultural experiences, and festive celebrations. With these tips in mind, you're all set to create unforgettable memories in this enchanting country. Happy travels!
Frequently Asked Questions For Switzerland In October
Q. What Is The Weather Like In Switzerland In October?
October in Switzerland is characterized by cooler temperatures, ranging from 10 to 15 degrees Celsius. It is also known for its stunning autumn foliage and occasional rainfall. Be prepared for varying weather conditions, and pack a mix of warm and waterproof clothing.
Q. What Are The Best Activities To Do In Switzerland During October?
In October, Switzerland offers a wide range of activities. Take advantage of the pleasant weather by exploring the picturesque villages, hiking through the alps, or enjoying scenic train rides. Additionally, you can indulge in seasonal delights such as wine and food festivals, or visit museums and historical sites.
Q. Will Tourist Attractions Be Crowded In Switzerland During October?
October is considered a shoulder season in Switzerland, meaning that popular tourist attractions are generally less crowded compared to the summer months. However, popular destinations may still have visitors, so it's advisable to book accommodations and tickets in advance to ensure a smooth travel experience.
Q. Are There Any Special Events Or Festivals In Switzerland In October?
Yes, October offers several noteworthy events and festivals in Switzerland. Some examples include the Geneva international film festival, Zurich film festival, and the alpabfahrt (cattle drive) in Appenzell. These events showcase the country's rich culture, traditions, and appreciation for the arts.
Q. Can I Still Visit The Swiss Alps In October?
Absolutely! October is a great time to visit the swiss alps. The cooler temperatures make hiking and outdoor activities more comfortable, and the scenery transforms into a breathtaking array of autumn colors. It is advisable to check weather conditions, trail availability, and take necessary precautions for mountainous regions.
Q. What Should I Pack For A Trip To Switzerland In October?
When packing for Switzerland in October, it's important to bring layers and clothes suitable for different weather conditions. Include warm clothing like sweaters and jackets, as well as waterproof gear like a raincoat or umbrella. Don't forget comfortable walking shoes, and pack according to your planned activities and destinations.
Conclusion
October is an ideal time to visit Switzerland. The country offers breathtaking landscapes, vibrant autumn colors, and a range of recreational activities to enjoy. Whether you're a nature enthusiast, an adventure seeker, or a culture lover, Switzerland has something for everyone.
From exploring the picturesque swiss alps to wandering through charming towns and cities, there is no shortage of captivating experiences. Additionally, the weather during October is mild and pleasant, making it perfect for outdoor excursions and sightseeing. Moreover, the fewer crowds allow visitors to immerse themselves in the swiss culture and enjoy a more authentic experience.
So, if you're planning a trip to Switzerland, make sure to include October in your travel plans for an unforgettable and enriching adventure. Discover the captivating beauty and charm of Switzerland during this magical time of the year.